Welcome to
GABKUL FOUNDATION
Gabkul Foundation is a U.S registered, tax-exempt non-profit organization(NGO) based in the Democratic Republic of Congo and in the USA. Created in January 1998 by Dr. Gabriel KULEMFUKA (Ortho-Prosthetist), Gabkul Foundation is dedicated to improving Education, Health, and lives of vulnerable people in the Democratic Republic of Congo. Through the years, Gabkul Foundation has been improving lives for so many Congolese children especially disabled one, young adults, and elderly people by promoting social and economic development. The foundation also helps the unfortunate people of Congo by bringing new or used medical supplies and equipments; technical materials such as, Computer, clothes, tools, ambulances, shoes, buses, cars, trucks, books, bicycles, motorcycles, pen and pencils; financial and moral assistance.

Our "I am the future" education campaign is ongloing. The goal for this program is to build a school called "SPRINKLE OF HOPE", in partnership with Transformation Ministries. The school will provide 178 disadvantaged children from the Mbakana village with access in a safe environment. Our primary needs for Sprinkle of Hope include infrastruture develepoment , renovations, furniture, and educationa; materials.
Education is a human right and provided the foundation for lifelong success. Please help us give the gift of education to the children of Mbakana village.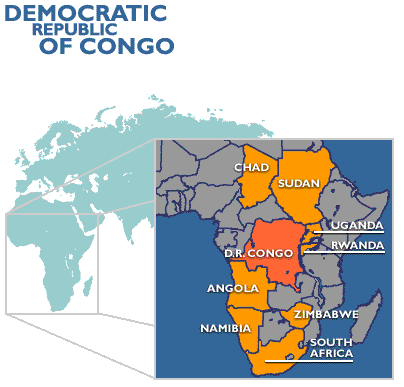 The Democratic Republic of Congo is a country affected by extreme poverty and where the economy and social structures have collapsed. Over thousands of people have lost their limbs, sight and hearing through the ravages of war. The communities are swamped with different kinds of vulnerable groups, and over million children, women, and men need as much help as they can get. The quality of life includes hunger, poverty and malnutrition causing various illnesses and physical malformations.

We
firmly believe there will be a day when all of the sadness, and suffering that surround vulnerable people will be replaced by a new heaven and a new earth. Where there shall no longer be any death, crying, or pain. We also believe that such a new earth will come with your help, but until that time we are commissioned to work on behalf of every vulnerable people who comes within our area of influence. We are also committed to reflect the character of our God by recognizing the value of each individual we serve, which in return guarantees our demand for excellence in all activities
.